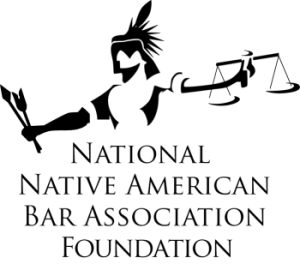 Information
NNABA Foundation's Bar Review Scholarship criteria are listed below. Individuals who qualify and who would benefit from this opportunity are encouraged to apply.
Eligibility:
Applicant must be Native American, Alaska Native, or Native Hawaiian;
an active member of NNABA, a regional American Indian Bar Association, or NNALSA;
be a current third-year law student attending an ABA accredited law school in the United States; and
be registered to take a State Bar Examination in July 2019 or February 2020.
Applications:
Applicant must complete the online NNABA Foundation Bar Review Scholarship Application available at www.nativeamericanbar.org. Applicant must include resume and personal statement (maximum 300 words).
Selection Criteria:
Selection Committee will consider background, academic performance, honors and awards, community service and leadership, and financial need.
Instructions
Attach to Application form a personal statement (not to exceed 300 words) addressing the following questions:

Why NNABA Foundation should award him/her a Bar Review Scholarship, including financial need and academic performance?
What are the most significant experiences in your background that have shaped and demonstrated your commitment to serving your community and the legal profession?

Submit the following with your application:

An official copy of your most recent law school transcript;
Personal Statement; and
Resume.

 If you do not submit the required information, your application will not be considered by the NNABA Foundation.
Submit application and all required supporting materials electronically to adminassistant@nativeamericanbar.org by February 22, 2019.
Please carefully read the eligibility rules, application instructions, and FAQs prior to emailing the NNABA Foundation for further information.
Attached is the 2019 Scholarship Application for guidance.